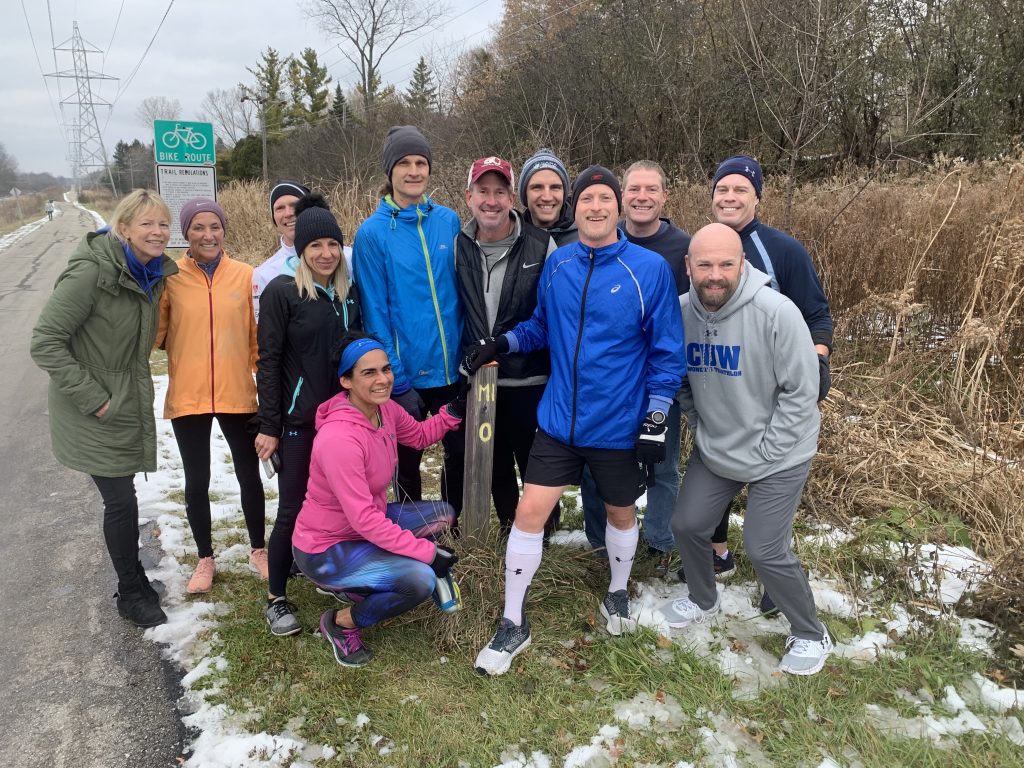 This is a joyous group relay run across our beloved Ozaukee County. The event takes place in November and is organized by and offered exclusively to those on the Run Ozaukee email list (sign up here). The course is defined by the Interurban Trail with a detour through scenic Upper Lake Park and along the harbor in Port ashington. We start at the Sheboygan County line (Pebble Beach Rd.) and end at the Milwaukee County line (County Line Rd.).
As with all Run Ozaukee outings, the course is open. Runners are expected to take care of themselves, look out for each other, obey all traffic rules when running and driving, and generally be good citizens. Each runner is responsible for his or her own safety, hydration, and nutrition. Runners are organized into carpools to help with logistics.
The course includes four legs of different lengths. Each leg has a nominal start time, noted below. If you wish to run a leg, arrive 10 minutes before the nominal start and be ready to go! We will send the runners out on the next leg when the lead runner from the previous leg arrives. Stay together if paces permit and remember this is a fun run not a race.
Full Course and Leg Maps:
Full Course: https://www.mapmyrun.com/routes/view/3473206159
Leg 1: https://www.mapmyrun.com/routes/view/3516836848
Leg 2: https://www.mapmyrun.com/routes/view/3516852451
Leg 3: https://www.mapmyrun.com/routes/view/3516833122
Leg 4: https://www.mapmyrun.com/routes/view/3517073845
Event Schedule:
Leg 1 (10.1 miles): 8:00 AM (6:00 AM for ultras)
Leg 2 (9.7 miles): 9:20 AM
Leg 3 (5.2 miles): 10:40 AM
Leg 4 (6.1 miles): 11:20 AM
Finish Line Party: 11:00AM-2:00PM
Spanky's Hideaway
Other details (including the event date) and event signup are provided by email exclusively to the Run Ozaukee email list.
Sign up if you want to be part of the fun!